Sometimes to make a dream come true, all you need is a little inspiration and a lot of faith. Recently, there has been a strong push in this region to rebuild, grow, and strengthen the area. Many people who love this community have invested their time to mold it into a better place. Hampton Wilkins, a man deeply rooted in his beliefs, strengthened through the love of his family, and driven for the idea of a stronger region, is a great example of community spirit in action.
In 1992, Hampton opened Wilkins & Company Real Estate, with the goal not to become the biggest real estate agency in town, but rather the best. Wilkins & Company is still at the same location it was established in twenty-one years ago. Over time, Hampton's clients experienced the commitment to excellence Hampton and his team gave each client, and the business grew. His philosophy of wanting the best for his clients drew people to Wilkins & Company, and as such the business had to renovate the building in order to accommodate new realtors. When all was said and done, the original 600-square-foot house was only a small percentage of the now 10,000-square-foot office building.
Hampton attributes his good fortune to his ability to stay humble. Hampton said, "My faith guides everything I do. My goal isn't to be a fan of Christ, but rather a follower." This kind of personal service and humility is what has made Wilkins & Company a successful pillar in the community for so many years. Hampton said, "When I make a mistake I enjoy saying, 'I made a mistake, let me say I'm sorry and fix the problem.' The only people who don't make a mistake are those who aren't doing anything." The entrepreneurial spirit of tackling challenges despite the risk is something Hampton instills in his family and co-workers, but it's also something that was handed down to him.
Hampton's passion for real estate is passed down to him from his parents. While his father and mother owned what was once, "Riverside Café", where Hampton hustled as a young short order cook, they also had several rental properties which piqued his interest. Using the knowledge he had gained from working at his parents' café, Hampton learned from an early age that "serving the customer's needs is the secret to success."
When Hampton started Wilkins & Company, he knew the importance of a strong team. He is quick to spread the credit for the success of Wilkins & Company to the "& Company" part. "My team, they've been with me for a long time." Ask him the secret to his success and Hampton points to the people around him. "Tammy and the people here at Wilkins & Company make me look good."
As soon as his company was up and running they all started giving back. Hampton invests his time to serve others as a member of more than half a dozen Boards in the area and as a volunteer at many other organizations. Fifteen years ago, one of the first ways he was able to show his commitment and dedication to the community was having a stew sale for the Schoolfield Elementary School. The stew raised money to help children have shoes, backpacks, and many other essential items their families couldn't afford. This grew into regularly having stews for all types of non-profits. His activities have evolved over time, and although he's retired the stew pot, giving back to the community is an even bigger part of who Hampton is. Two years ago, Hampton and his team were the chairmen of the United Way fundraising campaign. During the course of the campaign he allowed people in his office to take charge of the company project, and they were able to meet the goal. He stated, "I wish I could say I was shocked at how the office came together. But, I believe in my people. The project helped develop camaraderie. The team didn't see the project as just me, but rather all of us together."
Hampton is driven by an inner belief that pushes him every day. "I want to be remembered for the way I treat people. I treat everyone the same, whether they can do something for me or not, "he said. "Our success in this business is directly from the community. My daughter and grandchildren are here. I do it to make Danville a better place."
There is nowhere you will see Hampton's outpouring of love more apparent than in his commitment to his autistic grandson, Davis. Davis's mother (and Hampton's daughter), Catherine, is an entrepreneur who now works at Wilkins & Company. She has two children Victoria and Davis. Some of Hampton's favorite moments are the times that he is able to spend with his grandchildren. Taking them to the park or just spending time with them in general fills his life with joy.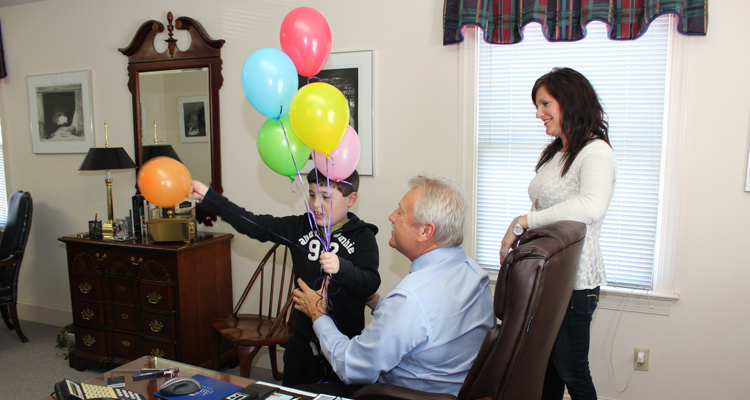 Early in his life, Davis was diagnosed with a severe form of autism. The challenges on a family are intense. Whether you have the resources to attack the problem or are financially drained because of the problem, finding help for autism is one of the greatest challenges families face in America. But the rewards are immeasurable. Every breakthrough is like winning the lottery. "Davis is the most precious fellow I've been around. I can't even describe it," Hampton said. He keeps Davis on weekends and always takes him to church at First Presbyterian on Sundays. "Davis and his parents and grandparents have taught us a lot about love. When we see the depth of love we can have for one another through any circumstance, it helps us to understand God's love for us," Pastor Allen Thompson said.
When you see Hampton and Davis together, it's obvious that the developmental distance between them disappears. Their bond is intense and unbreakable. Between Hampton, Catherine, and Davis, their struggles have strengthened their souls.
The severity of autism can range from severe to subtle and having a family member with autism anywhere along the spectrum isn't an easy thing to deal with. With Hampton's family, the severity of the autism has been especially challenging. They've tried to help Davis in every way that comes to their attention so he can overcome his challenges. "I read that a hyperbolic chamber helped autistic kids so I bought one," Hampton said. "We used it until Davis didn't like it anymore."
One of the hardest parts of dealing with autism is how treatments are rapidly evolving. Most teachers and schools have limited training in dealing with the wide ranges of autism. Treatment theories come and go on almost a daily basis. As the parent or grandparent of an autistic child, you want to make sure you're doing everything you can do and trying the things that experts say work. Diet is an especially difficult part of the condition. Davis is very selective in what he will eat. In the past Davis has been on a gluten- free and casein-free (no dairy products) diet. But these diets, combined with Davis's picky eating, left very little foods from which to choose. With the help of a dietician, Hampton and Catherine are making strides. "The main thing we are trying to teach him is the importance of healthy eating."
Like most parents of autistic children, finding the best place to go to school is an ongoing challenge. Davis now goes to Building Blocks where he is starting to show significant improvement. "Everything is a challenge," Catherine said. "From simply going to the grocery store to going out to dinner, or even just to a family birthday party, it's a struggle and people stare like I'm not disciplining my child." With most children, you can simply tell them what to do. But with an autistic child, you have to divert their attention to a different activity. "My husband, my daughter, my helper, Meagan Dosher, and Dad have all been important parts of overcoming this challenge," Catherine said. "Without my Dad…" She couldn't finish the thought and she didn't need to.
Hampton has become an expert in autism, just as he is an expert in real estate. He is a leader in his family, just as he is a leader in the community. He's a loving grandfather, businessman, and citizen. If anyone can lead a team to victory over autism, it's the man who led his company to victory in the community. Anyone can have a successful business, but Hampton has created a business with a soul. His main purpose in life is to help others, whether it's to find a home, to grow as a person, or to be a resource for information on autism. He will accomplish it. Hampton Wilkins makes things happen.